Conference Paper | Imagine That! Imaginative Suggestibility Affects Presence in Virtual Reality
2023 | Crescent Jicol, Christopher Clarke, Emilia Tor, Hiu Lam Yip, Jinha Yoon, Chris Bevan, Hugh Bowden, Elisa Brann, Kirsten Cater, Richard Cole, Quinton Deeley, Esther Eidinow, Eamonn O'Neill, Christof Lutteroth, Michael J Proulx
CHI '23: Proceedings of the 2023 CHI Conference on Human Factors in Computing Systems. ACM.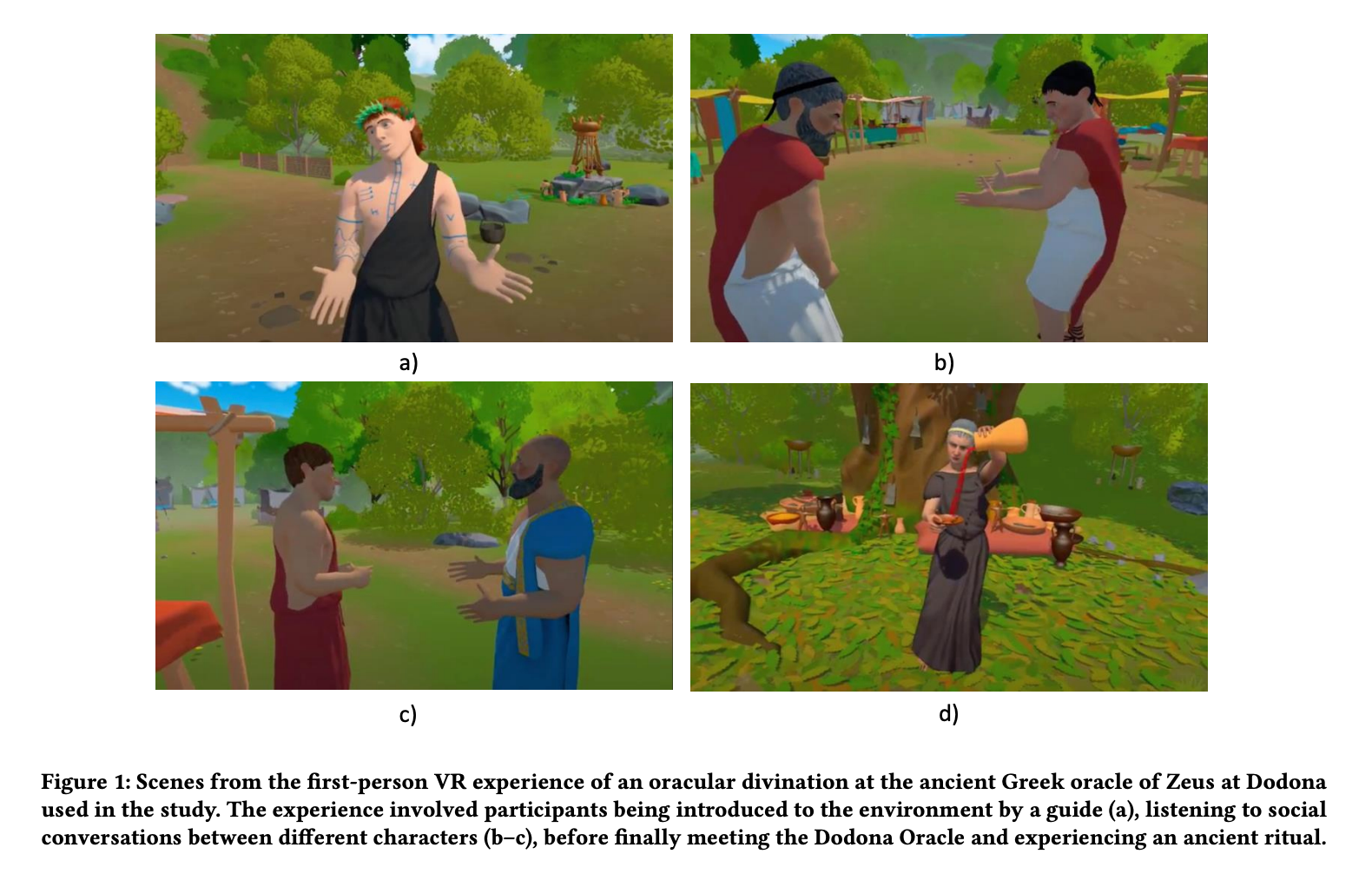 Abstract | Personality characteristics can affect how much presence an individual experiences in virtual reality, and researchers have explored how it may be possible to prime users to increase their sense of presence. A personality characteristic that has yet to be explored in the VR literature is imaginative suggestibility, the ability of an individual to successfully experience an imaginary scenario as if it were real. In this paper, we explore how suggestibility and priming affect presence when consulting an ancient oracle in VR as part of an educational experience – a common VR application. We show for the first time how imaginative suggestibility is a major factor which affects presence and emotions experienced in VR, while priming cues have no effect on participants' (n=128) user experience, contrasting results from prior work. We consider the impacts of these findings for VR design and provide guidelines based on our results.
Associated Project

Available at

DOI
Citation
Jicol, C., Clarke, C., Tor, E., Yip, H. L., Yoon, J., Bevan, C., … Proulx, M. J. (2023). Imagine that! imaginative suggestibility affects presence in virtual reality. Proceedings of the 2023 CHI Conference on Human Factors in Computing Systems. New York, NY, USA: Association for Computing Machinery. URL: https://doi.org/10.1145/3544548.3581212, doi:10.1145/3544548.3581212
@inproceedings{10.1145/3544548.3581212, author = {Jicol, Crescent and Clarke, Christopher and Tor, Emilia and Yip, Hiu Lam and Yoon, Jinha and Bevan, Chris and Bowden, Hugh and Brann, Elisa and Cater, Kirsten and Cole, Richard and Deeley, Quinton and Eidinow, Esther and O'Neill, Eamonn and Lutteroth, Christof and Proulx, Michael J}, title = {Imagine That! Imaginative Suggestibility Affects Presence in Virtual Reality}, year = {2023}, isbn = {9781450394215}, publisher = {Association for Computing Machinery}, address = {New York, NY, USA}, url = {https://doi.org/10.1145/3544548.3581212}, doi = {10.1145/3544548.3581212}, abstract = {Personality characteristics can affect how much presence an individual experiences in virtual reality, and researchers have explored how it may be possible to prime users to increase their sense of presence. A personality characteristic that has yet to be explored in the VR literature is imaginative suggestibility, the ability of an individual to successfully experience an imaginary scenario as if it were real. In this paper, we explore how suggestibility and priming affect presence when consulting an ancient oracle in VR as part of an educational experience – a common VR application. We show for the first time how imaginative suggestibility is a major factor which affects presence and emotions experienced in VR, while priming cues have no effect on participants' (n=128) user experience, contrasting results from prior work. We consider the impacts of these findings for VR design and provide guidelines based on our results.}, booktitle = {Proceedings of the 2023 CHI Conference on Human Factors in Computing Systems}, articleno = {397}, numpages = {11}, keywords = {imaginative suggestibility, presence, priming, virtual reality}, location = {Hamburg, Germany}, series = {CHI '23} }